Venturer Technology has been servicing the Greater Brisbane area since July 2018. This area is not exclusive to receiving our services. Venturer is one of our core drivers and Technology – especially Information Technology enables us to deliver far and beyond. We have clients as far north of Brisbane to Papua New Guinea, South to Orange NSW and many locations in between such as Townsville, Bundaberg, and Sunshine Coast. 
Through our use of technology yes, we can log-in remotely to install, upgrade and update our client's software. What we really love and where we started is to venture onsite and deliver in person whenever it is practical to do so. Often, we will bring our special team member Sabre along with us.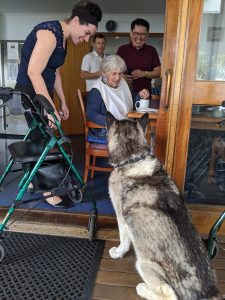 Our customer base is varied. We service Real Estate, Medical, Tyre Services, Hotel/Motels, and our specialty passion is Not-For-Profit or Charities. We understand the priorities of our charity clients are to deliver services to their cause whether it be child welfare, different abilities, veteran support, or environment and provide IT Solutions that enable them to direct more of their funds towards their mission.
Cost effective software licensing and hardware are all part of our delivery. Many of the items we install for our business clients are now available on our new retail store in our updated website. These are brands we trust for their efficiency, durability, and performance
If your business is outgrowing its current IT services, you need to add more users, licenses, phones, sales software, or your equipment is no longer performing contact us info@venttech.com.au  or ph: 07 3518 8155. We will meet with you and develop a custom IT Solution.